:
Audience Participation!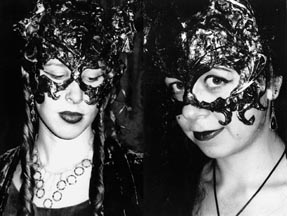 A good friend & myself at a Masquerade Ball we threw back in '96
One of the many topics I saw brought up in the Labyrinth
mailing list was Audience Participation.


Why should the Rocky Horror Picture Show fans have all the fun?
Gather a group of your close Labyrinthine friends,
plan a party, dress up as masqueraders and goblins, and try some of these out....
| | | |
| --- | --- | --- |
| Scene | Participation | Suggested by: |
| Opening shot of Hoggle | Everyone has water bottles they squirt in the air. | Jen4202 |
| The helping hands asks Sarah which way she wants to go. | Everyone yell "Go Up!" | Alys |
| The Helping Hands scene | Split into groups and come up with your own "Helping Hand" faces. The group that comes up with the best wins a prize: a peach! | Lovespring |
| Anytime someone says, "It's a piece of cake," | Do the Pillsbury Doughboy giggle: "He-he!" | IrishCreme |
| Jareth moves the clock forward a few hours. | Everyone whine "It's not Fair!" | Alys |
| When *anything* unexpected happens to Sarah | All yell in a whiny voice, "It's not fair!" | Melissa |
| Jareth says "Hello Hedgewart," and then Sarah says "Hogwart" | All yell in an annoyed voice: "HOGGLE!" | Jess |
| Jareth is spining crystals and letting them blow away in the breeze | Everyone blow bubbles! | Elizabeth Eallen |
| The Ballroom scene | Have a dance contest. The best impersonation of Jareth & Sarah wins! | Vibes/Lori |
| Ludo calls the rocks | Everyone call for the rocks with him, and when they come, say in a deep voice "Rocks Friends" | Melissa Fedak |
| The Bog of Eternal Stench | Everyone yell in unison (with Ludo) "Smell baaad!" | Goblynn |
| The Bog of Eternal Stench | And throughout the scene--hold your nose | Goblynn |
| When they are stepping on the rocks, (which make flatulating noises) | Join in | Sipseygirl |
| Just before Sarah says "You have no power over me..." | Everyone yell "Don't Say It!!!" | |
| The climactic scene where Jareth turns into an owl | Everyone throw feathers in the air!! | Cyg/Kris |
And if you serve any food at your big Labyrinth-theme party, take Walter Pullen's (Astara@msn.com) suggestion, and make sure you have lots of peach in it.
Please do not email more suggestions, I am no longer maintaining this page. Sorry.
Labyrinth characters © Henson Associates, Inc. 1986
Labyrinth movie title and character names are trademarks of Henson Associates.